Our March Special is the Hardy's Ham Melt.
Ham and provolone cheese served open face on top of two slices of Hardy's garlic bread. Served with choice of potato and vegetable side for *$9.99.
Our Ham Melt was inspired by The Gerber Sandwich from St. Louis.
📱 Call to order:
North 507-288-3936
South 507-281-1727
*Special price does not apply to GrubHub.
Simply delicious!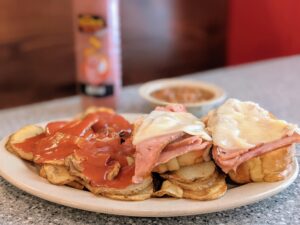 John Hardy's Bar-B-Q Sauce 3-Pack (Online Price Only – Plus Shipping Cost)
$15.00
Choose from any of our sauces to make your own 3-pack of delicious BBQ goodness!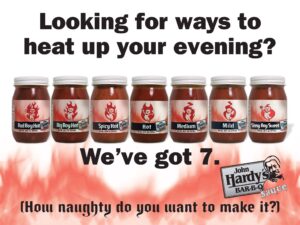 John Hardy's Mild BBQ Sauce
The sauce that started it all.
John Hardy's Sissy Boy Sweet BBQ Sauce
For those who like it sweet.
John Hardy's Medium BBQ Sauce
Just a little kick.
John Hardy's Hot BBQ Sauce
Proceed with caution!
John Hardy's Spicy Hot BBQ Sauce
Really proceed with caution!
John Hardy's Big Boy Hot BBQ Sauce
Need we say more!
John Hardy's Bad Boy Hot BBQ Sauce
For the bad boys!